UDOT's Right of Way division makes history with Innovation Award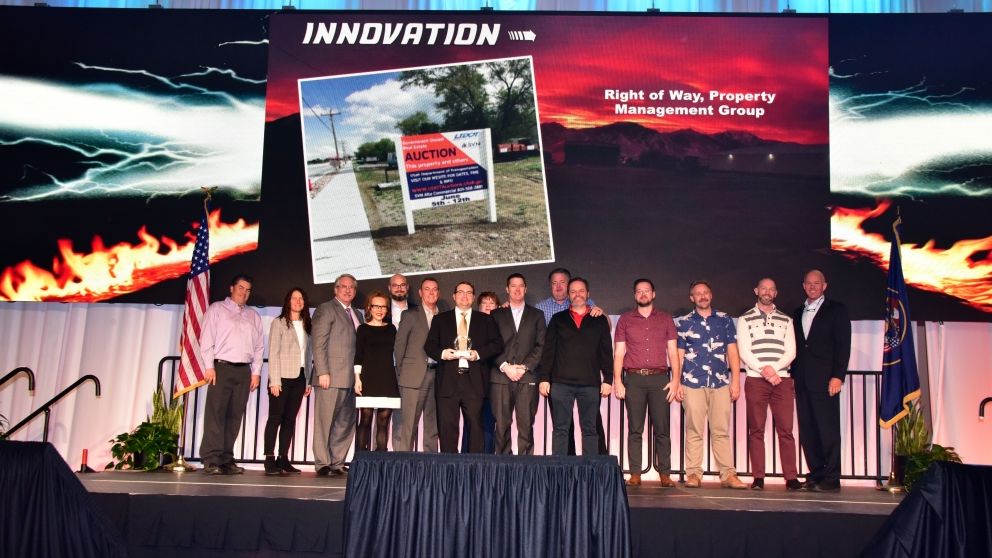 FOR IMMEDIATE RELEASE
Partnership with SVN Auction Services leads to prestigious recognition
Salt Lake City, UT (January 14, 2020) – Right of Way, a division of Utah's Department of Transportation, received their Innovation Award for its online platform that manages auctions for the state's surplus properties. The division launched the online platform in early 2019 as part of a partnership with SVN Auction Services. The awards ceremony took place at UDOT's annual conference and tradeshow that hosts more than 3,000 attendees and roughly 300 vendors.
The Innovation Award is presented to a department that highlights both large and small innovations occurring throughout the department, as well as those that change how UDOT conducts business. Among other criteria, nominees were judged on the positive impact the innovation has made on time saved, dollars saved, improved customer service and/or improved safety.
"This is an outstanding recognition for Right of Way and validation of the significant benefits of our online auction platform," said Louis B. Fisher, III, national director of SVN Auction Services. "I've spent the core of my 40-year career serving government agencies. I can tell you that our relationship with UDOT and Right of Way exemplifies a true partnership."
The online auction platform, www.UDOTauctions.Utah.gov, allows qualified buyers continuous access to UDOT property information. The online platform created and managed by SVN Auction Services has effectively streamlined the process of government surplus property sales.
There were 42 properties offered with sales totaling 42.3 million dollars.
The platform can be optimized by other government agencies around the country that manage surplus property. SVN Auction Services has partnered with two other state agencies for discussions regarding offering the platform for their surplus property disposition needs and with several other launches in process.
The online platform satisfies recent Utah legislation to establish an online or web-based application to use in conducting public sale auctions of land or assets.
"The platform has not only created an efficient system for purchasing surplus properties but has also allowed for a high level of transparency," said Charles Stormont UDOT's Director of Right of Way rep. "It has been instrumental in helping us achieve our goals and satisfy state-level requirements in managing surplus properties."
Contacts
Louis B. Fisher, III, CAI, National Director, SVN Auction Services, LLC, 954-931-0592 / fisherL@svn.com
Ken Zeszutko, Z Corp. PR / 321-213-1818 / kenz@zcorppr.com
---