SVN Auctions To Sell Land Parcels For City Of Champagne, Illinois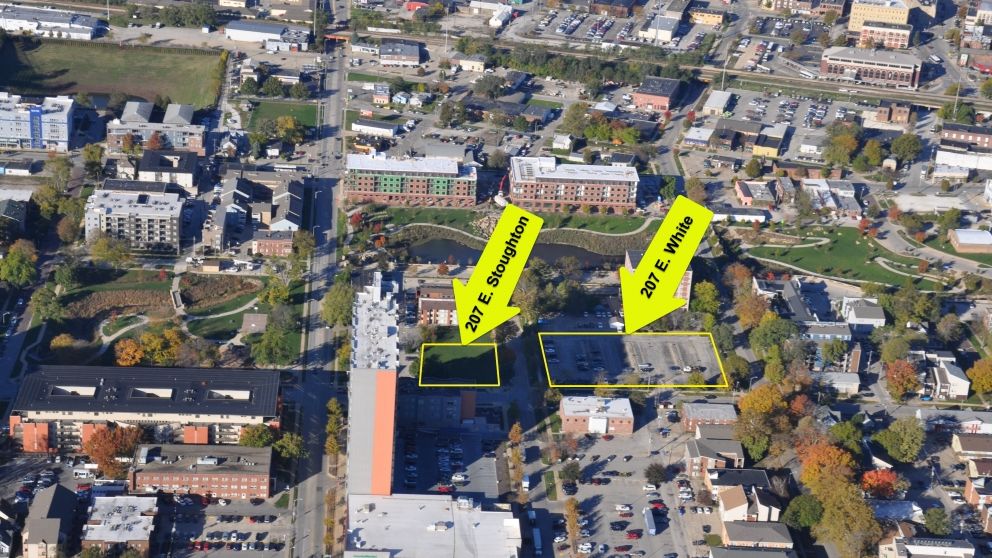 FOR IMMEDIATE RELEASE
SVN Auction Services coordinating sale of two city-owned properties near downtown Champaign, IL.
Sites are ideal for multifamily or student housing; deadline to qualify for sale is June 26 with live auction sale on June 28
CHAMPAIGN, IL. (May 30, 2018) – SVN Auction Services will conduct the sale of two city-owned properties in the Campustown area of Champaign, a bustling locale near the University of Illinois campus. The properties at 207 E. White Street and 207 E. Stoughton Street are available for purchase individually or as a package, and are surrounded by housing, restaurants, retailers (including a grocery store), parks, and the University of Illinois. The local economy is dominated by higher education, medical, research, technology, and creative/applied arts employers.
The White Street site is 1.3 acres and is currently used as a public parking lot with 150 spaces. The Stoughton Street parcel is vacant land of slightly more than half an acre.
"There's a tremendous demand for multifamily and student housing in Campustown, and these parcels are perfect for such development," said Louis Fisher, CAI, national director of SVN Auction Services. "The area is undergoing a number of major infrastructure improvements to handle a rapidly growing population, characteristics that are coveted by investors and developers."
Deadline to submit an initial offer/bid is 4:00 p.m. (Central) on June 26, 2018. Potential bidders will be notified the following day whether they qualify for the live auction sale at 11:00 a.m. on June 28, 2018. To obtain information for underwriting the parcels, visit CityofChampaignAuction.com.
Bruce Knight FAICP, Planning and Development Director for the City of Champaign, said improvements in the area have been a priority for the City in recent years.
"Champaign, along with the City of Urbana, the C-U Mass Transit District, and in partnership with the University of Illinois, was awarded $35 million for the Multi-Modal Corridor Enhancement (MCORE) project," said Knight, adding that the project should be completed by 2020. "Campustown is booming, and this project will only make this key commercial corridor more attractive and functional with enhanced landscape amenities, bike lanes and street improvements."
In addition to Fisher, SVN Auction Services has assembled two other expert advisors to collaborate on the sale: David E. Gilmore, CCIM, CAI, AARE, managing director of SVN Auction Services in Kenner, LA.; and Alex Ruggieri, CCIM, CRE, MBA, senior advisor with SVN | Ramshaw Real Estate in Champaign.
"Our SVN Auction Services team has the culture, infrastructure and expertise needed to assemble the right team, develop the proper strategy and deliver an excellent solution for our clients," said Jerry Anderson, CCIM, executive managing director of SVN Auctions Services.
About SVN Auction Services
SVN Auction Services is a provider of date-specific sales and special asset solutions. It encompasses an elite group of local and regional accelerated marketing advisors throughout the United States who specialize in accelerated marketing services for commercial real estate assets. SVN Auction Services offers the industry's most comprehensive spectrum of auction solutions — from rapid asset resolution and 30-day countdown asset sales to wide area and high impact/high promotion events. As part of one of the most recognized and reputable commercial real estate firms in the industry, SVN Auction Services is supported by SVN International, which features 200 locations serving more than 500 markets. This relationship provides outstanding opportunities for SVN Auction Services to serve clients needing to move assets in accelerated timeframes and creates significant value for buyers and sellers. For more information, visit SVN Auction Services.
-30-
Contacts
Louis Fisher, CAI, national director, SVN Auctions Services, 954.931.0592 fisherl@svn.com
Bruce Knight, Planning and Development Director, City of Champaign, 217-403-8800 Bruce.Knight@champaignil.gov
Alex Ruggieri, CCIM, CRE, MBA, senior advisor, SVN | Ramshaw Real Estate, 217-841-4382 alex.ruggieri@svn.com

Ken Zeszutko, Z Corp. Public Relations and Digital Marketing, 321-213-1818 kenz@zcorppr.com
---